---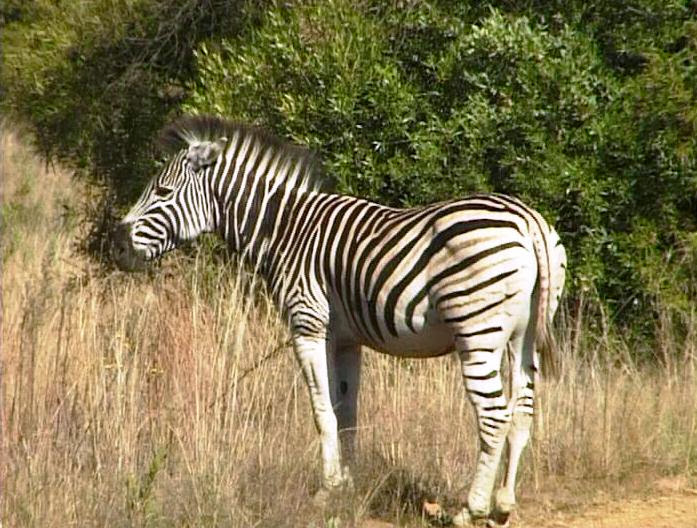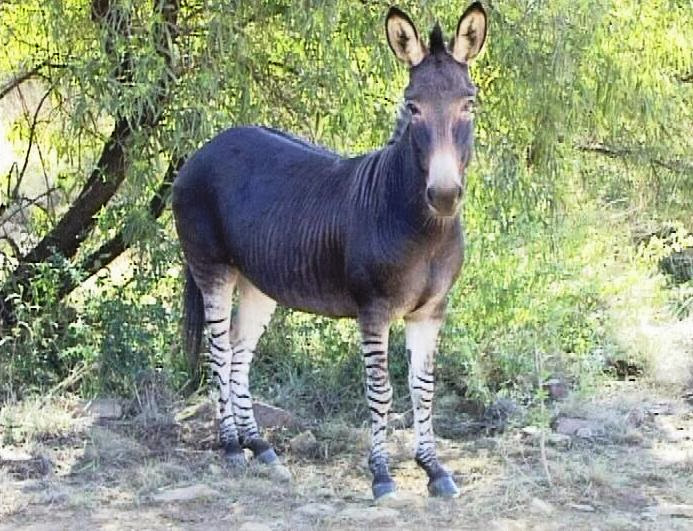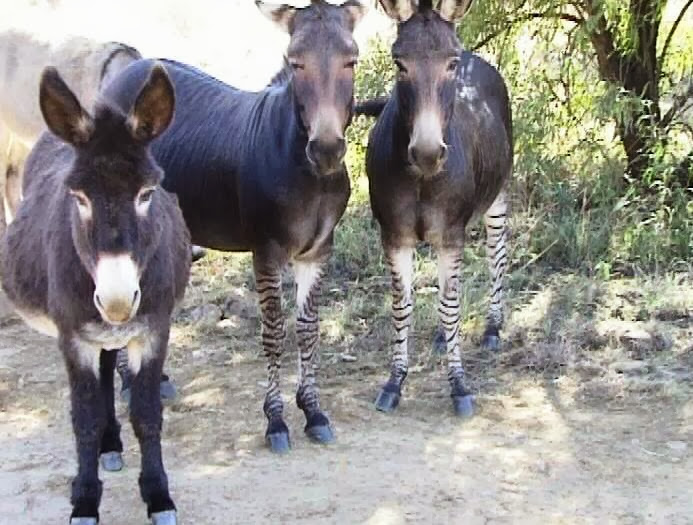 A zebra/donkey hybrid
A cross between a zebra and a donkey is known by many terms including: zonkey, zebonkey, zebronkey, zebrinny, zebrula, zebrass, zedonk, and zebadonk. Donkeys are closely related to zebras and both animals belong to the horse family. These zebra donkey hybrids are very rare. In South Africa, they occur where zebras and donkeys are found in proximity to each other. Like mules, however, they are generally genetically unable to breed, due to an odd number of chromosomes disrupting meiosis.
Donkeys and wild equids have different numbers of chromosomes. A donkey has 62 chromosomes; the zebra has between 32 and 46 (depending on species). In spite of this difference, viable hybrids are possible, provided the gene combination in the hybrid allows for embryonic development to birth. A hybrid has a number of chromosomes somewhere in between. The chromosome difference makes female hybrids poorly fertile and male hybrids generally sterile due to a phenomenon called Haldane's Rule. The difference in chromosome number is most likely due to horses having two longer chromosomes that contain similar gene content to four zebra chromosomes. Horses have 64 chromosomes, while most zebroids end up with 54 chromosomes.
Common wisdom states that hybrids only occur when the zebra is the sire, but the Barbados hybrid demonstrates otherwise. Two other known zebra hinnies have been foaled, but did not survive to adulthood. The rarity of zebra hinnies indicates the smaller number of chromosomes must generally be on the male side if a viable hybrid is to be produced. Before this comes into account, a successful mating needs to be accomplished in the first place. As courtship in horses involves the mare kicking at the stallion's head for some time before allowing him to mount, and as this behavior is stronger in wild equids than in domestic horses, it is difficult enough to get a horse stallion to mate and not be put off by the rough behavior of the non-horse mare.
Zonkeys are interspecific hybrids bred by mating two species from within the same genus. The offspring have traits and characteristics of both parents. Zonkeys vary considerably depending on how the genes from each parent are expressed and how they interact.
Zebroids physically resemble their nonzebra parent, but are striped like a zebra. The stripes generally do not cover the whole body, and might be confined to the legs or spread onto parts of the body or neck. If the nonzebra parent was patterned (such as a roan, Appaloosa, Pinto horse/paint, piebald, or skewbald), this pattern might be passed down to the zebroid, in which case the stripes are usually confined to nonwhite areas. The alternative name golden zebra relates to the interaction of zebra striping and a horse's bay or chestnut colour to give a zebra-like black-on-bay or black-on-chestnut pattern that superficially resembles the quagga. In zebra-donkey hybrids, there is usually a dorsal (back) stripe and a ventral (belly) stripe.
Courtesy: Wikipedia
---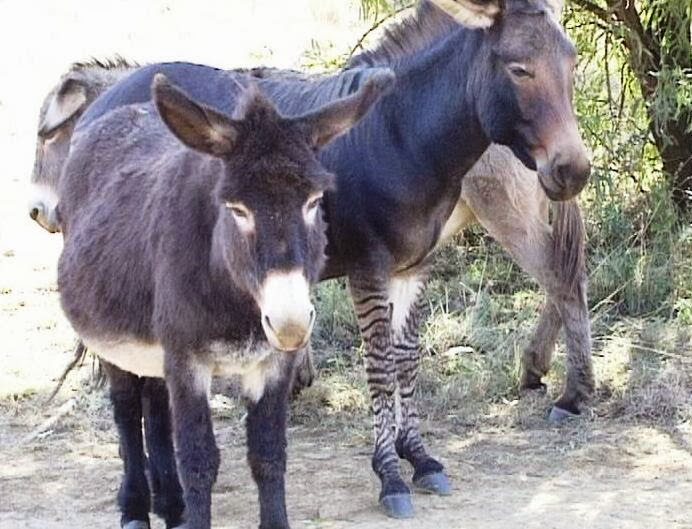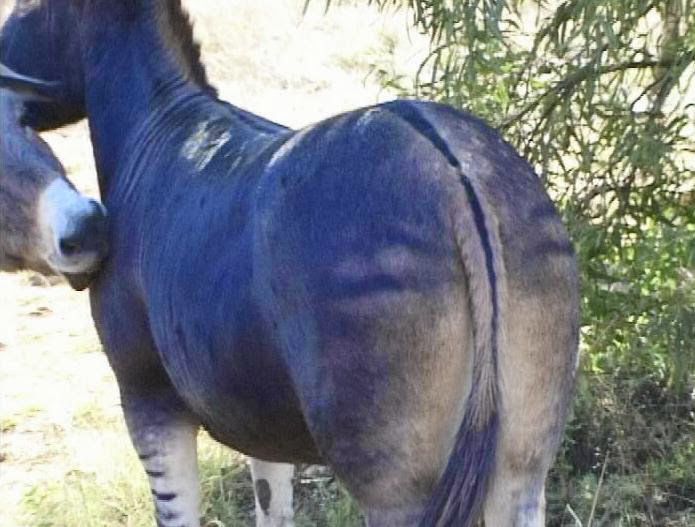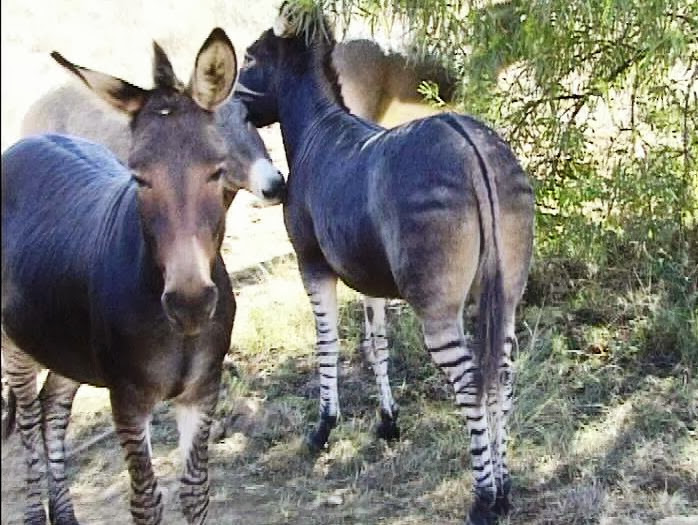 Very rare Zebra / Donkey Hybrid. Then and now. (1999 - 2014) Hennops Offroad Trail. A cross between a zebra and a donkey is known by many terms including: zonkey, zebonkey, zebronkey, zebrinny, zebrula, zebrass, zedonk, and zebadonk. Donkeys are closely related to zebras and both animals belong to the horse family. These zebra donkey hybrids are very rare. In South Africa, they occur where zebras and donkeys are found in proximity to each other. Like mules, however, they are generally genetically unable to breed, due to an odd number of chromosomes disrupting meiosis.
Filmed at Hennops Offroad Trail just outside of Pretoria in South Africa in 1999 and then again in 2014.
See video below for the Zonkey 14 years later.
---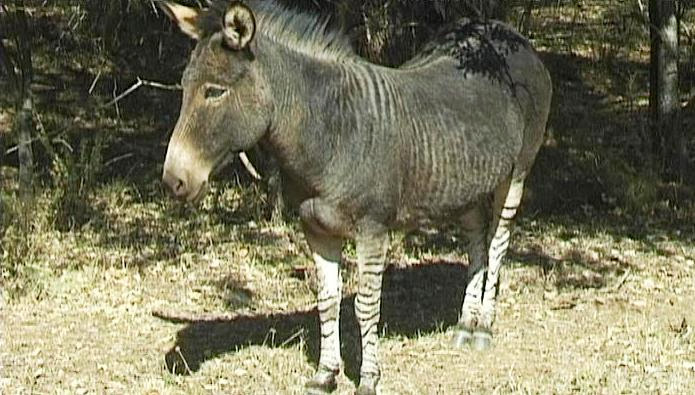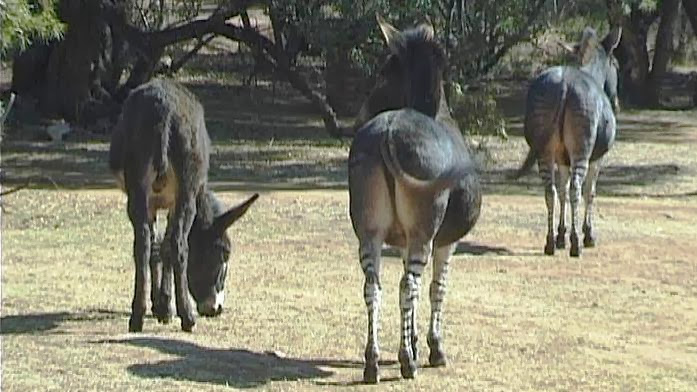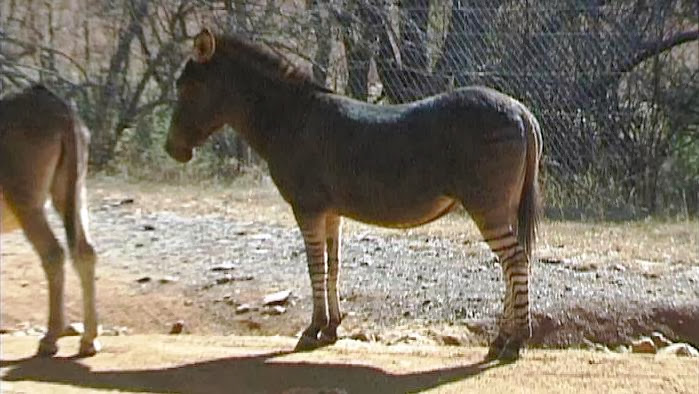 The Zonkey.
Much olderZonkey 14 years later.
---